Working remotely is now a popular trend especially for full time mothers. Many entrepreneurs and business coaches now enjoy balancing their business and their personal lives by working from home.
Though running your business from home has a lot benefits. Not only is it cost effective, you can easily manage your time, and avoid the hassle of lengthy commute. With its advantages, also come disadvantages. Work focus can easily be lost due to distractions and interruptions in the house.
We sat down with 2 entrepreneurs who run their business from home and some experts for tips on how to make a home-based business successful.
 Set up a personal work space
To avoid distractions, it is recommended to set up a dedicated work space that is conducive for working so that you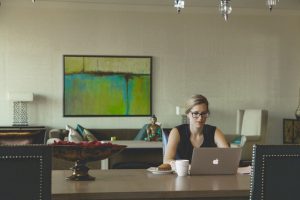 will be able to maintain your focus and be able to finish your task. It should be away from the living room or the kitchen.
According to Tammy May, founder of the personal budgeting company MyBudget from her home in 1999 and who was also named EY Entrepreneur of the Year and South Australian Business of the Year. "This way you can get some peace and quiet when you are working, especially if you have children at home."
MYOB human relations manager Rachel Lehmann justifies that it's essential to set up a proper home office, saying "so you're not just working with your laptop resting on your lap in front of the TV".
Lehmann advised to choose a room with a door to get that office ambiance.
Get into the 'work' mindset
Lehmann shared that for anyone who works at home, it does not matter what type of business you run, from a business coach through to a writer offering content writing services. Productivity can only be maximized if you get yourself into the 'work' mindset each morning.
We find productivity goes through the roof when someone imagines they are at work," says Lehmann, advising that one should set up a work schedule they can follow. "This means advising your friends and family that you are not available during this time."
Lehmann says incorporating the traditional office-based job setup is also very helpful. "Work as though someone is still looking over your shoulder and they will be doing a performance review," she says.
Get your technology requirements sorted as soon as possible
May recommends that spending time to confirm that you have the proper equipment should be prioritized.
"There is nothing worse than being stuck without an internet connection or not having a printer that works, for example," says May.
May recommends that a back-up plan should be readily available for inevitable internet outages, especially if you are in a field such as digital copywriting.
"I keep a USB internet dongle spare just in case," says May. "I can also take it with me when I travel or work remotely."
Working from home is not an excuse to do the laundry
Procrastination is a home worker's worst enemy. Since there is no pressure from an upper management, one can easily make excuses to proscrastinate on a business task to do house hold chores instead, significantly decreasing worker productivity.
"Don't treat working at home like a license to do things other than work," says May. "It's very tempting just to put the washing on or clean out your wardrobe. But if you were in an office at work, you wouldn't be able to do these things. They can be distracting and derail you. Before you know it you haven't really achieved much for the day."
May recommends acting like you are going to office-based job. This means preparing yourself and getting organized to start your day and not to sit all day in your pyjamas.