Having a fantastic outdoor area makes your home feel and look that much more special. It enables you to enjoy the outdoors in the comfort of your own home and permits you the entertain guests, and host parties if that is what you enjoy doing. Follow these steps to find out how you can make your outdoor area look and feel fabulous.
Add your colour
Adding patterns and colours to your patio can be done via different fabrics. New cushions and coloured pillows can change the mode of an area. Gone are the days when outdoor fabrics were uncomfortable and plastic-like in order to withstand the weather. New technology means there are now beautiful materials that can handle the weather that come in lovely colours and patterns to suit all tastes. If you would like professional assistance on how and where to add the right colours and textures for your yard, speak to your local designer in Sydney, Melbourne, Adelaide, Brisbane, Perth or Darwin.
The flooring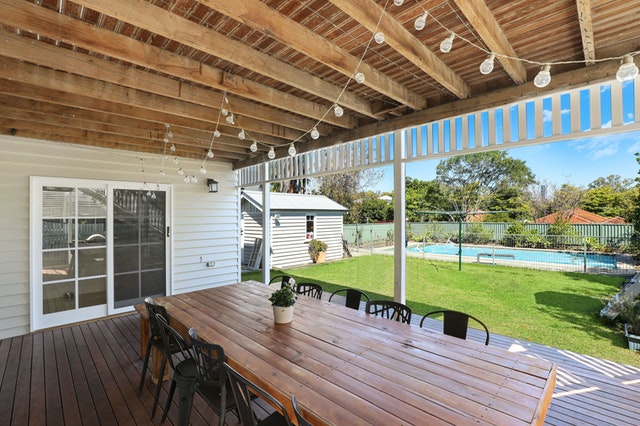 It is time to think about the flooring, do you want to make a beautiful decking area or do you want concrete? Once you have decided you can always use a beautiful rug that is suitable for outdoors. This is a great way to pull your patio together. The rug will liven up the dull flooring and bring some patterns and colours into your outdoor area. A quick tip, when designing your outdoor area, go and have a look at a display home – the best interior designers from Sydney and Melbourne usually assist in the design with them.
Change up your old furniture
You can give your dull and lifeless furniture a facelift with some paint. There are many different finishes now that work on different types of surfaces that you can let your imagination create a work of art. You can even use stencils to paint stripes or patterns on the outdoor furniture and cushions too.
Using a canopy
Create a cosy shady area just by putting an awning over your patio. These are available at hardware stores and can either be fixed permanently or only be used temporarily. In the warmer months, you can then pack it away, and when the weather gets colder and you are no longer sitting outside much.
Add character
You can add style to your outdoor area with unique items you find at the flea markets. Metal bed frames work well for creating a unique lounge furniture piece. If you want your space to appear romantic include vintage wicker pieces and a lovely cosy lamp. Exclusive items will add personality that you may otherwise lack in your outdoor area.
Keep your area private
You can turn your patio into a beautiful spot that is your own. Add some privacy panels either made from metal or fabrics panels to create a privacy screen. You can even use some lattice and plant some climbing trees to grow over the mesh and create a beautiful wall of a plantation.
Create your entrance
Whether you have a patio that is attached to your home or one that is standing by itself further away. You still need to create an opening that creates a focal point. A charming arbour makes a big style statement or if you prefer something simpler you can add a metal gate or garden arch with some steppingstones.
Adding glamour to your garden
Bring in some bling with an outdoor chandelier over the dining or coffee table. If you don't want permanent lights, you can buy battery operated ones and install them by draping them over trees or create somewhere to hang them.
Into the tropics
Adding some exotic themes to your garden using tropical plants. You can select different leaf types and different plant types to mass together and create a rain forest look. Add in some Mexican pottery for a few throws of colour.
Creating a fabulous look in your outdoor area and garden is simple and can be done with a few DIY crafts if you are on a budget or you can lash out and buy some more luxury items if that is more your taste.